About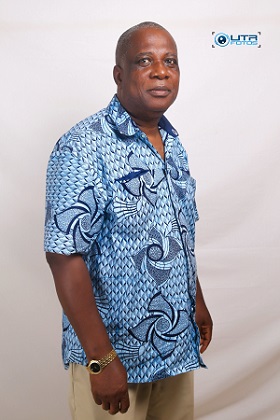 Early Life
I was born in Bondaye a mining town in the Western region of Ghana.  At the age of 8, I saw myself standing in front of a class of mining officials teaching them how to read and write. That always reminds me of my God-given gifts of teaching, leading, and public speaking.
My Teacher's Impact on my life
In 1967, my class teacher Mr. Vespucci Akins of the Prestea Methodist Middle School paid for my common entrance fees, because he believed in me that though younger for my class mates' age, I could pass the test. And I did indeed pass it and subsequently entered Tarkwa Secondary School (TARSCO), where I completed secondary school education in 1972. Vespucci thus implanted in me the idea of coaching; mentoring and extending help to others with the view  to helping them to  realizing their full potential, and getting to the point of greatness in their lives. This has subsequently become the bedrock philosophy of my life. I love helping and teaching people.
My Youth Days-Life and Ministry
Also, I spent a greater part of my youthful life in Accra, Ghana working with the Youth in the St Peter's Odorkor Methodist Church and the Kaneshie Circuit. I look back and see how I graciously placed my life, gifts, and other resources at their disposal, in order to bring many of them from under the shadows into the limelight in various enterprises in life but mostly equip them in the service of God.
Other Places Where I Lived, worked and did ministry
More so, I transitioned on my way to the United States of America first at Kinshasa, RDC, and then Lome, Togo. In Kinshasa, I trained intercessors and had a group of young girls which I mentored, coached, and supported. Since then, these girls have all become responsible women and engaged in serious ministry in the Lord's vineyard.   I recently caught up with one of them, and she said to me, "Papa. I still have my training notes; I am now a mother and the wife of a Pastor in Canada. I also have a platform to do ministry." I was excited to hear this from Esther and how she had grown in the Lord and in his service.
Footprint in the Kingdom of God through the Life and Ministry of Pastor Jean Bosco Kindomba 
Besides, I am also well known in the ministerial circles in Kinshasa, where I assisted Pastor Jean Bosco Kindomba from 1995 to 2000 to grow a church that met under trees- Église du Sang Précieux- (de Jésus)-Matonge to another kind in which its services now are held. It is a magnificent temple and is one of the largest in RDC at the moment.
My Work in UNICEF
Moreover, as a staff of UNICEF, I am well known and remembered for my training skills, as well as my unrelenting striving to seek the best for the staff and maintaining a discerning relationship with the Management. I served as the Vice-Chairperson for the UNICEF Global Staff Association, while performing the duties of an Accountant at the New York (NY) Headquarters. In addition to my work, I became one of the founding Elders of a Christian Fellowship in my workplace, which has grown to be a vibrant one since 2006.
Staff Training, Learning, and Development
I was engaged in Staff Learning and Development at all levels of UNICEF. I trained staff at the country, regional, headquarters, and global levels.
Pastoral support in New York-Dayspring Church on Roosevelt Island
Furthermore, while assisting in pastoring in the Dayspring church on Roosevelt Island in New York, I helped in the training of the leaders and strengthening the prayerfulness of the ministry. This effort contributed to the inspiration I received to write and the eventual birthing of the book "The Power and Potential of Prayer: A Holy Spirit Revelation That Will Change You" from its original name, "The Revelation of Prayer".
Ministry Leadership and Management-Leader Global Crossfire and Coach/Trainer
Additionally, I am a founding member and the current General Overseer of the Global Crossfire Mission (Ghana/UK). I am also the Leader of the Worldshakers Global Faith Family (WGFF) - a forum I use to train church leaders in Ministerial Leadership and Management and Personal and Ministry Development.
When You Call me Koach, then you really know me
People generally know me as George Odoom. However, I am widely known in the circles of ministry as Koach. I am married to Jayne and we have four children and one grandchild.